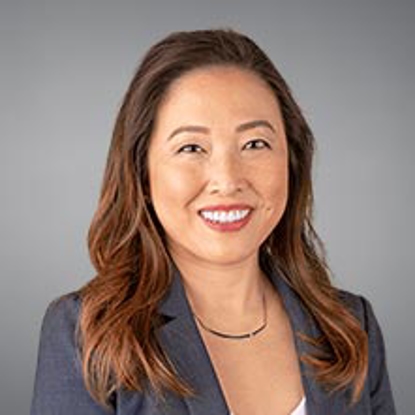 Jaion Chung Partner
Bio
Jaion Chung is a Partner in the Los Angeles and Orange County offices of Poole Shaffery .
She upholds the firm's service oriented approach in dealing with all aspects of civil litigation, whether responding to an emergency involving a catastrophic injury (as part of the firm's emergency response program), to obtaining verdicts, and having judgments affirmed on appeal. As a civil defense litigator whose primary areas of practice include trucking accident claims, cargo claims, product liability, and general liability, Jaion works with her clients to obtain practical resolutions in an effective and efficient manner.
Jaion has been consecutively recognized as a "Rising Star" by Super Lawyers Magazine between 2012 and 2017.
Jaion is a member of International Association of Defense Counsel, an invitation-only, peer reviewed group of approximately 2,500 members consisting of the world's leading corporate and insurance lawyers and insurance executives.
Jaion also belongs to the Trucking Industry Defense Association (TIDA), a nonprofit association dedicated to sharing knowledge and resources for defense of the trucking industry.
Jaion is also a member of Themis Advocates Group, a national network of preeminent law firms.
In her spare time, Jaion enjoys anything related to food, from cooking to dining out. She also enjoys traveling and experiencing new cultures.
Results
Obtained defense verdict on behalf of manufacturer of hospital health care products in which liability was disputed. (Aldridge v. Philips Healthcare (Case No. 34-2009-00054615).)
Obtained defense verdict on behalf of a manufacturer of lighting products in an indemnity action arising out of a wrongful death case. (Nu-Way Live Oak v. Genlyte Thomas Group (Case No. KC 050925).
Obtained defense verdict on behalf of manufacturer of lighting products in which liability was admitted and plaintiff sought damages of $3.45 million in damages. (Stump v. Collins (Case No. 30-2009 00117250).)
Assisted in obtaining defense verdict on behalf of manufacturer of brake cleaners in action where plaintiff allegedly developed life-altering skin depigmentation as a result of dermal absorption of benzene and xylene from a brake cleaner. (Fasuyi v. Permatex (Case No. RG 06-281952).)
Successfully briefed and argued before the California Court of Appeal, obtaining an affirmance of judgment of dismissal after demurrer was sustained in favor of a global outdoor advertising company. (Sayre v. Clear Channel Outdoor (Case No. SC 112410).)
Successfully briefed and argued before the California Court of Appeal, obtaining an affirmance of summary judgment granted in favor of manufacturer of medical devices. (Pierson v. Tower Beverly (Case No. SC 089453).)
Obtained a judgment of dismissal after the trial court granted motion for judgment on the pleadings on behalf of manufacturer of consumer healthcare products. (Culpepper v. Philips Electronics North America Corporation (Case No. CV120289).)
Obtained two separate dismissals for a waiver of costs on behalf of manufacturer of concrete powdered dyes and a supplier of sand in action where plaintiffs alleged their decedent sustained interstitial pulmonary fibrosis as a result of occupational exposures to mixed dust particulates while working as a concrete mixer operator. (Sandoval v. Mitsubishi Cement Corporation (Case No. BC431890.)
Obtained dismissal for a waiver of costs on behalf of manufacturer of anti-skid/painting products in federal court action where plaintiffs alleged they sustained lung injuries as a result of occupational exposures to benzene and other toxic chemicals while serving in the U.S. Navy. (Scott v. Does 1 through 100 (Case No. CV12-06235 SJO).)
Obtained dismissal for a waiver of costs on behalf of manufacturer of electrical power strip where plaintiff filed a subrogation claim to recover costs relating to a fire. (State Farm General Insurance Co. v. Philips Electronics North America Corp. (Case No. NC043779.)
Education
Loyola Law School, Juris Doctor

College

University of California, Los Angeles, Bachelor of Arts in political science, minor in English

Graduate School